We are a
family owned

and operated business

This is truly a Mom and Pops American business.

Our jerky is handmade at an FDA approved facility in Oregon. We only use USDA beef (American only meat). The process is simple: season or marinate it, smoke it and package it.

Once the jerky is ready, someone on our team takes it to fairs, festivals, rodeos, Christmas shows, art festivals, street fairs and a lot of different unique events around the world. You can find where we'll be by following us on social media.

We use USDA Choice Beef and the cut is from the brisket part of the cow. For the exotic or trophy series jerky, the sections vary and our stock is seasonal or limited by supply and demand.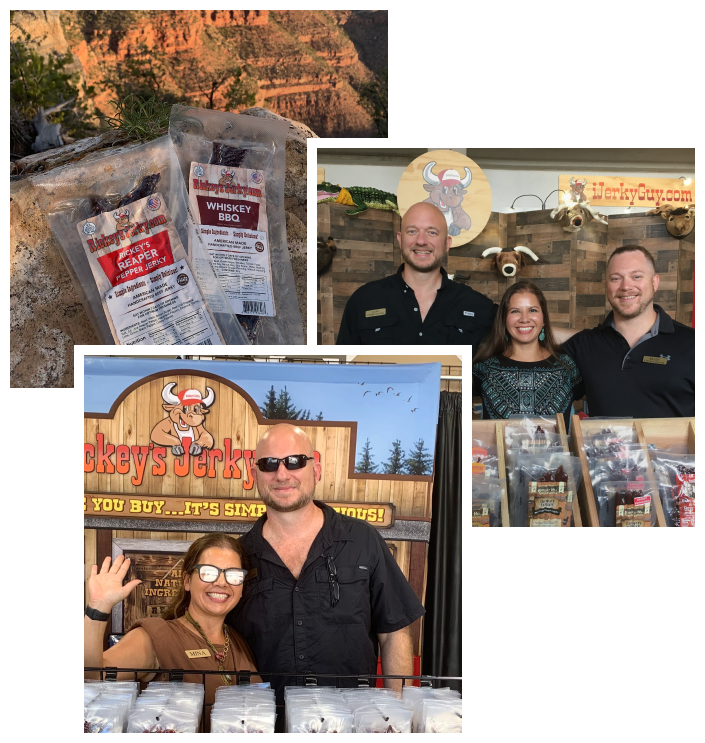 Meet our
team
Rickey's Jerky started in 2014, with Ryan Rickey selling at farmers markets in the Portland, OR area.
Ryan was solo for a little over a year and then he was joined by his amazing wife Mina. His brother Brady came on board in 2016. Brady's talented wife Ashley is also present. Our dedicated hard workin' cousins Ronnie and Jessi are based out of FL. A native Texan and loyal team member, Mark Love and his son Laurence have been with us through highs and lows. The road warriors Kurt and Lisa, hailing from Arizona, bring ample industry experienced. And the newest members Liam, who grew up in Ireland, and his lovely and caring wife Marce also hang out in Texas.
You may bump into us any of us at fairs, festivals, rodeos, farmers markets, art shows, Christmas shopping, music and miscellaneous events all over our beautiful country.